What do you like about the American icons you have chosen as a subject matter?
The old Hollywood stars still have so much mystique and glamour surrounding them, partly due to the fact that there were no smart phones around, or constant videos, that sort of thing. And whether you were alive during that time or not, the nostalgia within that era can bring your own individual memories into play. Like, my mom remembers everything about her first Beatles conert. A younger crowd can remember seeing their first 'vintage movie' or remember watching a biopic on these past celebrities and icons. There was something in that era that was a turning point in our pop culture, before everyone was an 'influencer' – it serves as a special type of time capsule. One's own memories and that era's nostalgia can create a narrative when viewing these paintings.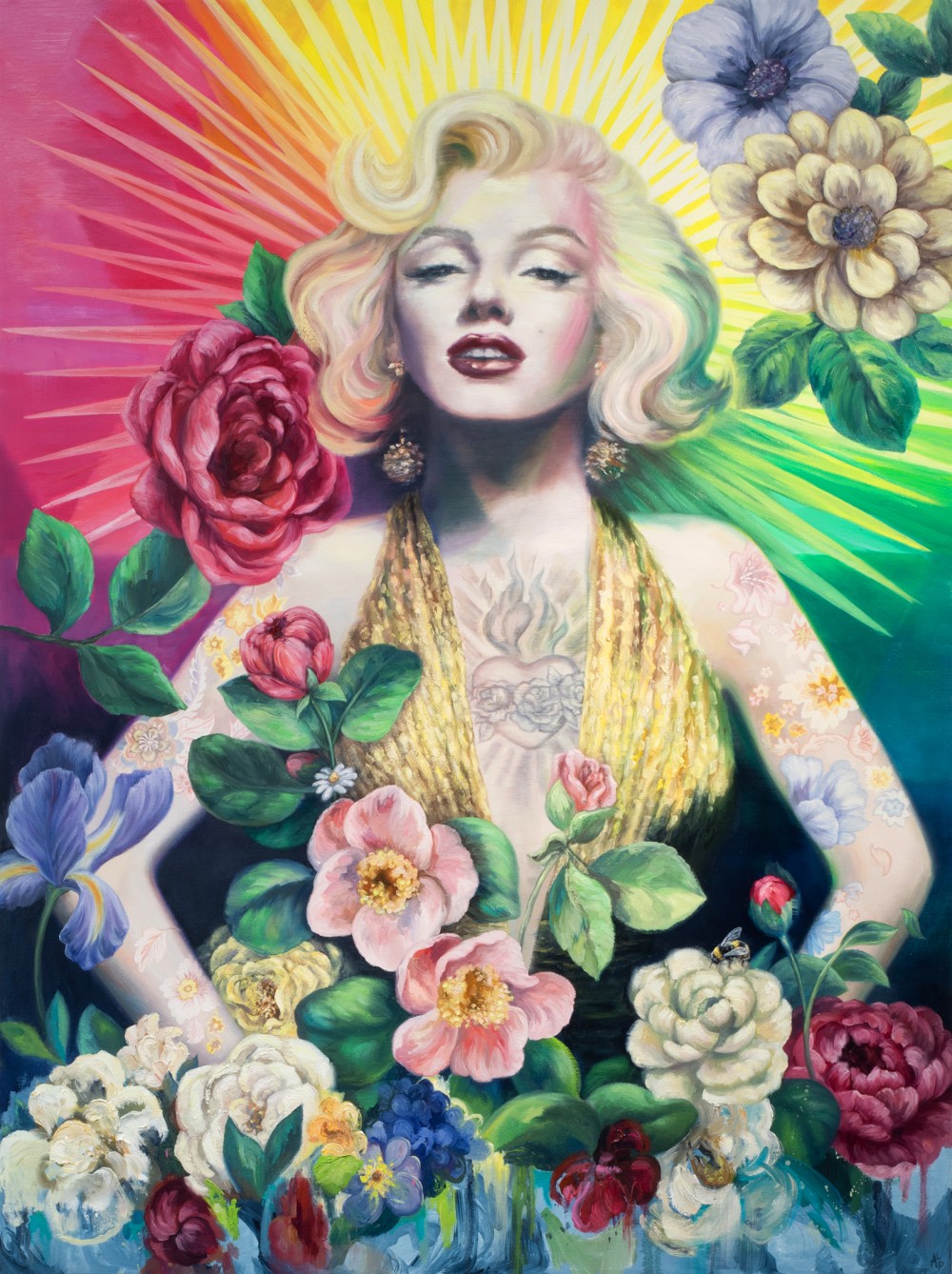 Andrea Peterson, Sacred Heart, Oil on canvas, 48"h x 36"
Do you have a favorite old Hollywood actor, musician, or political figure?
My high school art teacher, Rog (his name was Mr. Rogers, but he'd kill us if we called him that, so "Rog" it was) was a Vietnam veteran and an artist himself. He'd have us listen to his classic rock station every day. You know, like Led Zeppelin, Jimi Hendrix, Rolling Stones – and to this day, if I'm feeling 'stuck' in my studio, I'll put on that type of music and the creative juices start flowing. A bit of Pavlov's dog conditioning theory happening, perhaps. It's hard to pick a favorite from that realm, but I do love Janis Joplin. Not only could she belt out a song in style, but it was the wild abandon with which she sang and performed that really struck me when I first heard it and watched those old videos of her on stage. I do find the actors and political figures quite interesting too, but I don't know about 'picking a favorite' in those categories!
What inspires your painting style?
My painting style is constantly evolving, and there is so much that inspires me on a daily basis. I tend to get lost in the details, but lately I've been enjoying adding thicker paint to my canvases and pushing my color palette to become brighter. I've just started getting into painting murals in the last six months, and being forced to paint large and with different techniques in that arena has begun to influence my canvas paintings as well, especially in the composition, color, and brushstrokes.
What do the prisms in your work represent?
The prism design within a lot of my artwork was an idea that was spurred by my grandfather, whose hobby was stained glass. Our family still has lots of these stained glass works he created; I grew up around them. One day I thought how much more exciting even a simple old landscape would look behind one of his diamond patterned windows. In my earlier prism paintings, the triangles were smaller. Gradually they grew, and sometimes they even overlap or fade in and out as I've further learned to integrate them with my subject matter and painting.
Andrea Peterson, Elvis Blues, Oil on canvas, 36"h x 36
Can you expand on the title of your show, "Epoch Floral"?
"Icon" was too overdone, and knowing that I'm still big on my floral kick (the old masters' Dutch floral paintings are also a big influence in my work) I figured "Epoch Floral" was fitting!
What do you like most about American Iconography or pop culture/Americana in general?
It relates to what I said earlier about the nostalgia of the analog age. Before everything in life could be recorded and put on social media, there was this era of Rock-n'-Roll, Old Hollywood, and private parties you might need a verbal password to get into. It was an era of enjoying all the nuances of being with people in those moments, because texting and selfies weren't a thing. It was an era of handwritten letters and postcards – actors, musicians and artists having to exchange ideas in-person, using their hands and words to describe their ideas because 'Googling' something on your phone wasn't an option. All of these personal, direct aspects of communication and connection breathed life into this era.
ANDREA PETERSON
Epoch Floral: A Guadalupe Street Feature
May 12 – 27, 2023
Artist Reception: Friday, May 12th from 5 - 7pm